8 September 2016 | Primo Estate
Rest in Peace Primo Grilli, 1934 - 2016
I am saddened to share with you the passing of Joe's father, Primo Grilli. From humble beginnings in Italy's Le Marche region, Primo set off on a great adventure to build a new life in Australia. His second great act of optimism was investing all he had in a winery for his 19 year old son Joe, who was studying wine making at Roseworthy College. From the company he started as a grape grower, Primo lived to see bottles of wine bearing his name spread across Australia and around the world - an astonishing legacy.
I hope that you will join us in raising a glass to the man who made Primo Estate possible and celebrating a life well lived.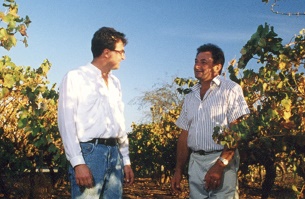 Joe Grilli (left) and his father Primo Grilli, among their vines in 1990.
Comments
Commenting has been turned off.