For over 30 years Joe Grilli's signature wine has been the JOSEPH 'Moda' Cabernet Merlot.
The Moda is made using partially dried grapes in the style of Northern Italian 'Amarone' wines. As a young South Australian winemaker in the 1980s, Joe pioneered the use of this technique outside of Italy.
In a recent interview with Peter McCombie, Joe discussed the origins, techniques and philosophy behind this unique wine style.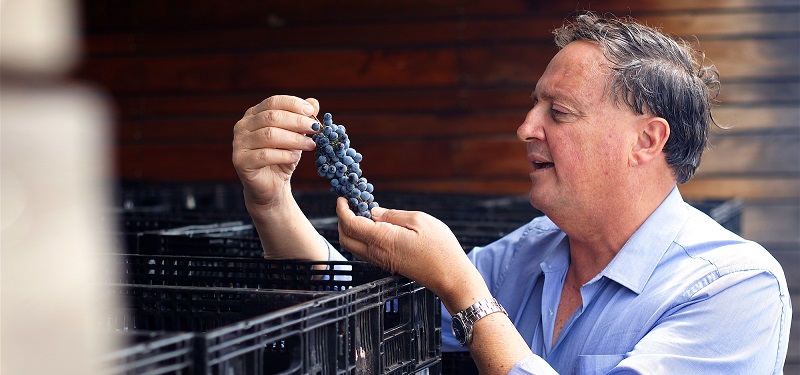 What inspired you to make wine from dried grapes?
Actually the origins for my making this style go back to a London wine bar in 1984. I was there on my first ever overseas trip (incidentally with a very young Chester Osborn straight out of Roseworthy College who had yet to commence working as winemaker at his family's d'Arenberg winery), and at the time I was searching for ideas to make a flagship Primo Estate red - something to really hang my hat on. I do not remember the name of the wine bar, but the sommelier there recommended we try a Masi single vineyard riserva from the early 70s - one of those with a hand written label - and I remember being blown away by it. He explained how it was made from air dried grapes and I pretty well resolved on the spot that I would conduct trials making wine from dried grapes. I also had the drying infrastructure -racks, covered drying area - from my experiments with inducing botrytis on Riesling grapes so I was able to put the idea into practice quite readily.
What makes your wine different to the traditional Italian Amarone?
Well firstly I am using Cabernet Sauvignon and Merlot originally because I thought the Cabernet berries were suited to all the handling required to spread them on the racks being quite resistant to squashing.
I always wanted to limit the drying to make wines of just under 15% alcohol and retain a vibrance without too much raisin character that might make the wines look like dry vintage port! I also wanted to avoid some of the mouldy/bitterness that some of the really old fashioned Amarones were like.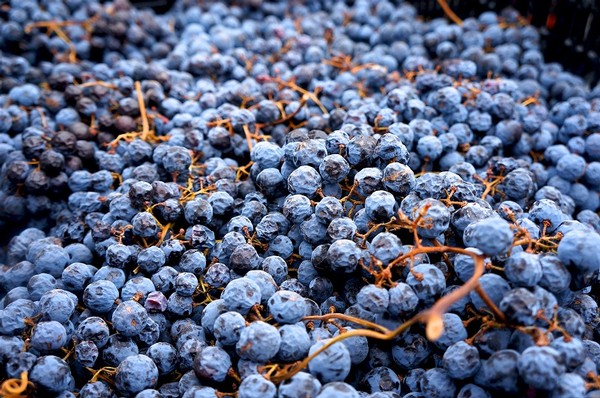 Cabernet grapes for the JOSEPH Moda undergoing the Amarone process
Do you think the appassimento (drying) process dominates terroir expression?
Good question - undoubtedly the appassimento process changes the whole complexion of the wine. Apart from the concentration factor the wines come out with a velvetiness and softer mouthfeel no matter where the grapes come from. I see the drying process as being part of the terroir.
At tastings of older Moda's (10 years or more) I often say that I see in the wine the natural exuberance of Aussie fruit, a bit of cigar box as in Bordeaux and then an Italian-like layer of compost/antique furniture. In short I believe the drying process adds a touch of Italy into the wine!
What do you think is the appeal of dried grape wine for wine drinkers? Is it power, weight, intensity, etcetera? Or perhaps sweetness? Or…?
Once again very good question - I think it instinctively appeals to wine lovers who understand that with a dried grape wine, whether it's my Moda or a Sfursat or a passito Sagrantino or an Amarone, they are guaranteed of getting a powerful mouthfilling wine and some bang for their buck!
Click here to discover the latest release of the JOSEPH Moda!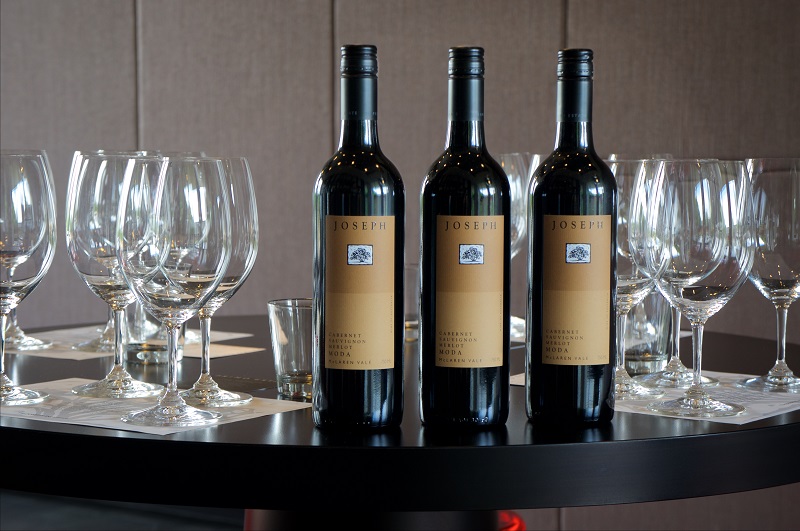 We have updated the Primo Secco and created a new wine: The Primo Estate Prosecco NV.
This is winemaker Joe Grilli's tribute to the fresh, crisp and savoury sparkling whites produced in his in-law's home region of the Veneto in Northern Italy.
The nose has delicate stone fruit aromas with a hint of lemon blossom. On the palate, fine, refreshing fruit flavours marry well with delicate bubbles and crisp acidity. Mouth-watering and moreish with a crisp, savory finish.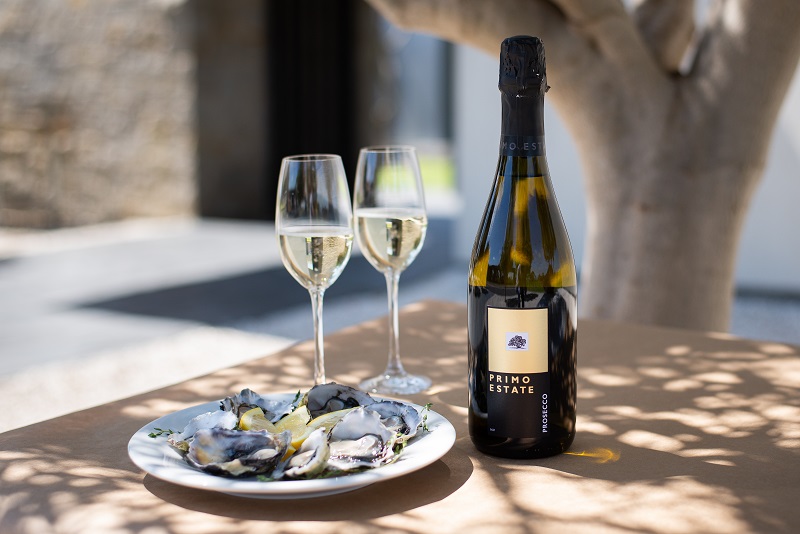 The JOSEPH Sparkling Red is made with museum vintages dating back to the 60's; this really is the history of Australian wine in a bottle.
To create the JOSEPH Sparkling Red a hogshead of the ultra premium JOSEPH Moda Cabernet Merlot from every year since 1991 and Primo Estate Shiraz from 1989 is added to a unique blend of museum vintages from the past 40 years. A tirage is completed only every 18-24 months, ensuring the base wine retains its unique character derived from the aged wines in the blend. After traditional fermentation in the bottle, the JOSEPH Sparkling Red disgorgement is rested on yeast lees for 24 months before hand disgorgement. It was liqueured carefully with a blend of aged Australian fortified wines to ensure a savoury style with perfect balance.
This is an extremely limited release which will sell out fast.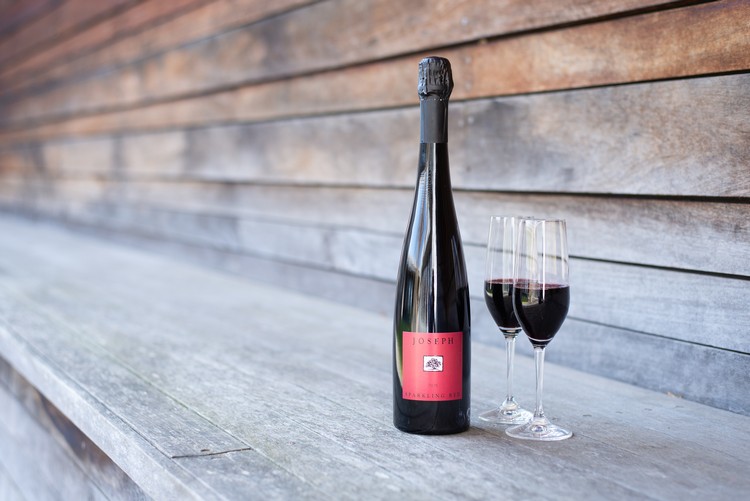 The 2017 Sangiovese a tiny batch limited-release wine which bursts with aromas of dark cherry and mixed spice. The pallet is juicy and succulent with a fine savoury finish.
2017 was a perfect year for McLaren Vale Sangiovese, where a long, cool ripening period led to wines with balance and elegance. The wine has now had over a year in bottle-ageing and is drinking magnificently.
To celebrate its release, we are offering a 2017 Primo Estate Sangiovese Straight Dozen Special: $220 per dozen with FREE shipping and a FREE bottle of olive oil.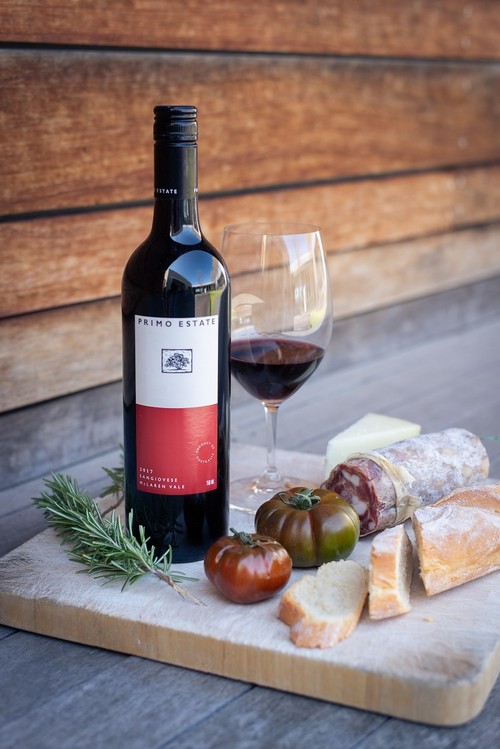 Ingredients:
- 1 clove garlic, peeled
- 1 heaped teaspoon of fennel seeds
- 6 whole pepper cloves
- 1 half-teaspoon of salt
- 1 tablespoon of JOSEPH Extra Virgin Olive Oil
- 2 pairs of pork ribeyes, bone in, scored with a slit between to ease cutting after cooking
Directions:
Preheat the oven to 200°C
Mortar and pestle the garlic, fennel seeds, cloves and salt until they are finely crushed and JOSEPH Extra Virgin Olive Oil.
Rub the mixture thoroughly into the pork skin.
Place the pork in a baking tray and put in oven. Immediately turn the heat down to 180°C.
Cook the pork ribeye for 30 minutes or until it's skin is golden and crispy.
Serve with any pan juices and fresh, crunchy salad.

Our Primo & Co 'The Tuscan' Shiraz Sangiovese provides the medium body and savoury tannin that matches perfectly with this pork dish.
Buon Appetito!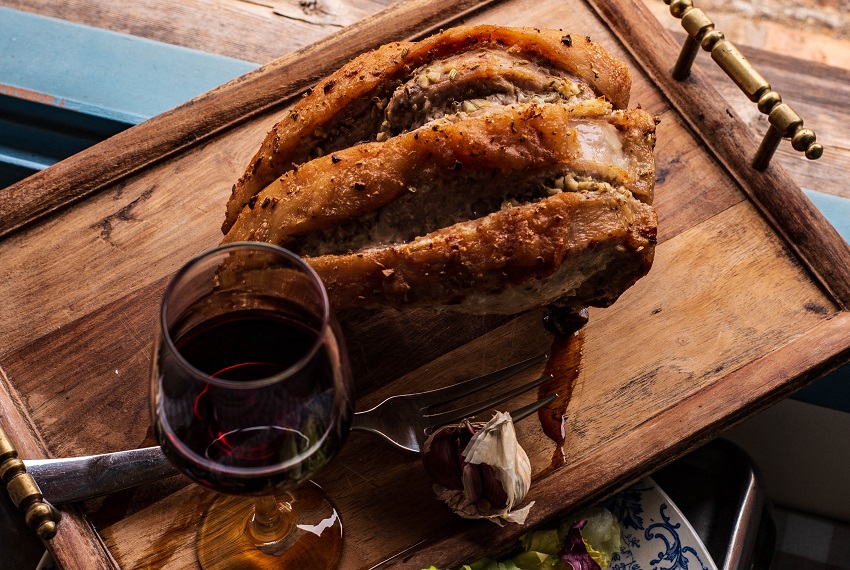 The 2019 JOSEPH First Run has just won 'Best Multi-Regional Oil', topping its category for the second year in a row! 🍈🥇🥇🍈
Both the 2019 First Run and the 2019 Cold Pressed were awarded Gold Medals at last night's Royal Adelaide Olive Awards.
These award-winning Extra Virgin Olive Oils are now available for tasting at our McLaren Vale Cellar Door - get in quick before they sell out!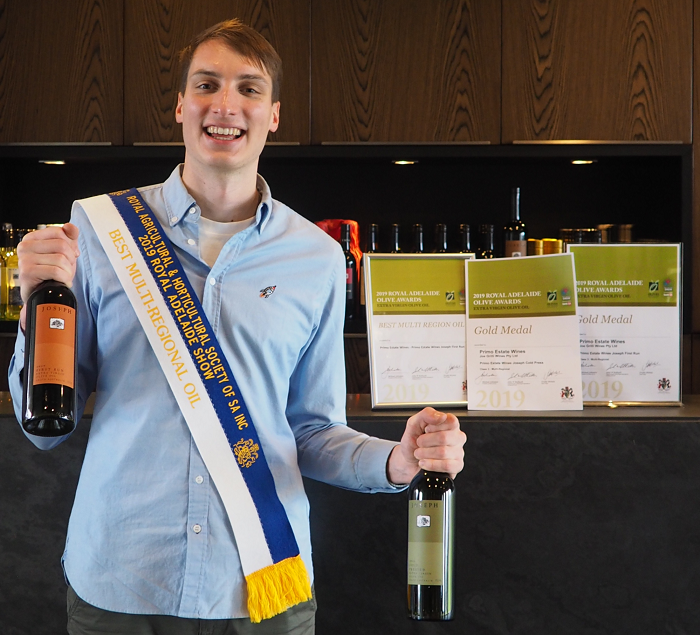 To celebrate forty years of winemaking we've released an extremely limited one-off wine: The Quaranta 🌟4️⃣0️⃣🌟

This is the heart and soul of Primo Estate in a bottle.

McLaren Vale and Clarendon Shiraz from the 2017 vintage has been fused with our JOSEPH Sparkling Red 'mother' base wine containing 30 vintages of Shiraz dating back to the 1980's. This special blend is then finished with a touch of our flagship red JOSEPH Moda Cabernet Sauvignon made from semi-dried grapes.

The result is a multi-layered wine which shows the best of McLaren Vale Shiraz as well as nuances of raisin and a mellowness from the Sparkling Red base. It's been made to be delicious on release but will age for a long time in the cellar.

Only Primo Estate, with our forty years of history, could have made a wine like this.
Click here to discover this one-of-a-kind wine.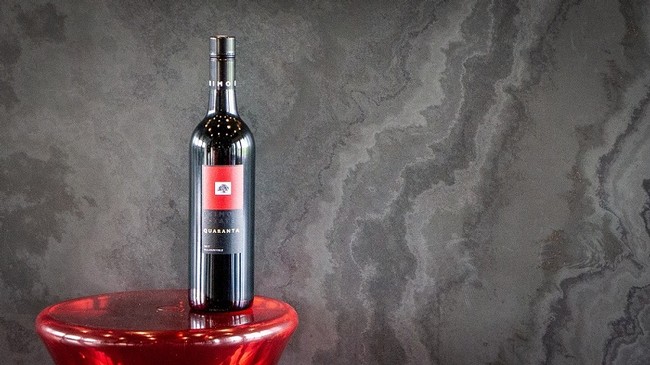 This is a deliciously uncomplicated, juicy and fresh 'little Merlot'. Bursting with the aromas of fresh blackberry, blueberry and cherry fruit. This is a wine to be drunk young and fresh; the perfect summer red. Winemaker Joe Grilli recommends Merlesco is best served out of tumblers with an alfresco table of antipasto, pizza or pasta.
We've given the 2019 release a new label to reflect the wine's vibrant personality.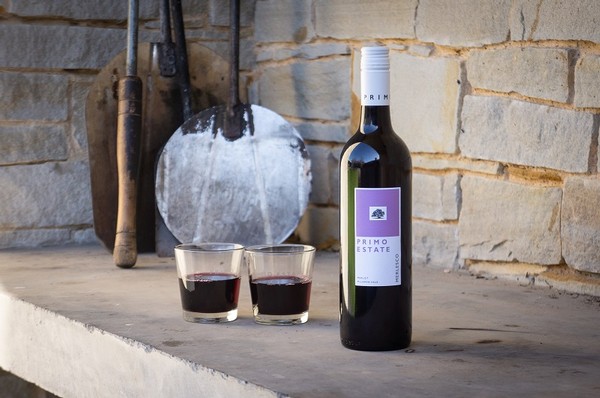 We've used fruit grown in and around the hills of McLaren Vale and Adelaide to create a wine which bursts with tropical and citrus flavours and a refreshing mouth feel.

The wine has a bright new outfit, showing off its exotic and vibrant personality.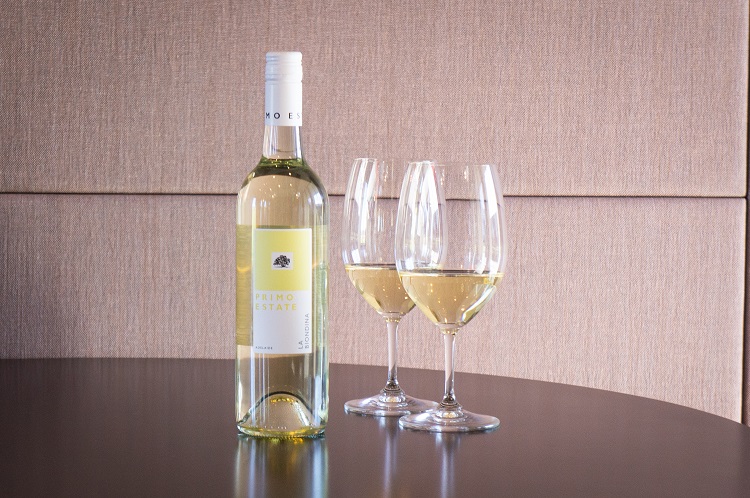 We have just bottled our 2019 JOSEPH First Run Olive Oil!
2019 has been one of the best olive harvests in recent memory – it's been a longer, cooler season. Growers were really able to dial-in picking time.
The first thing we noticed about the 2019 oil was the vibrant colour and pepper notes – perfect material for the JOSEPH First Run. The bottled oil is showing all the spice and fruit vibrancy that amazed us at the press.
The First Run is the first pressing of oil from the harvest's early crop. The yield is low, but fruit characters are at their most intense. In this bright green oil, vibrant olive fruit flavours blend with a clean peppery finish. This is a long and textured oil with notes of green banana and freshly cut grass.