2 February 2012 | Recipe of the Month | Primo Estate
Le Marche Fish Soup - Recipe of the Month
February's recipe of the month is one of Primo Estate winemaker and owner Joe Grilli's all time favourite dishes from his parent's home region of Ascoli Piceno in Le Marche on the central Adriatic coast of Italy. Joe says,
'Dishes like this are EXACTLY why we make the JOSEPH d'Elena Pinot Grigio'.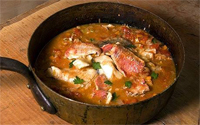 Comments
Commenting has been turned off.