31 October 2012 | Recipe of the Month | Primo Estate
Recipe of the Month - Barchette di Peperone
The 2011 Primo & Co Tuscan Shiraz Sangiovese just arrived in cellar door all the way from Italy and we are loving its intense black cherry fruit. With Joe just back from this year's Italian vintage and our Meet The Tuscan Pizza lunches sold out all this talk of Tuscany is making us long for the delicious smell of classic Tuscan stuffed peppers paired with a glass of The Tuscan!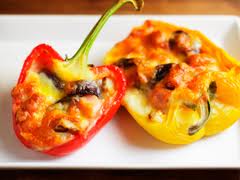 PS - Don't miss out on our free recipe of the month emails, become an Amici Primo mailing list member by completing the form on the top right of this page.
Comments
Commenting has been turned off.