The first vintage of JOSEPH La Magia Botrytis Riesling Traminer since 2008 has finally been bottled. Joe Grilli and the winemaking team were once again captivated by the process of infecting pristine Riesling grapes from our Clarendon Vineyard with specially cultured Botrytis spores. Over four weeks the Botrytis cast its spell on the fuit, transforming it into a luscious and alluring sweet white wine. Complimented by a parcel of late harvest Traminer from Coonawarra, the 2013 JOSEPH La Magia Botrytis Riesling Traminer is a complex and layered wine displaying hallmark exotic Botrytis characters balanced by a line of natural acidity and freshness from the Traminer. We invite you to experience this wine for yourself, either in our McLaren Vale cellar door or at your next dinner party. Click here to order online


A blend of the Tuscan olive varieties Frantoio, Leccino and Pendolino along with the staple Verdale and Koroneki varieties, the JOSEPH Cold Pressed Extra Virgin Olive Oil is sourced from olive groves in McLaren Vale, the Fleurieu Peninsula and Adelaide Hills regions. Picked at the peak of the harvest, each parcel of olives is pressed separately in a state of the art Italian olive press before carefull blending by master blender Joe Grilli. Watch a video of the olive harvest and press in action here.

PRIMAVERA CELEBRATION LUNCH MENU:
Primo Estate Primo Secco NV
2013 Primo Estate Merlesco Merlot

Peperonata, White Anchovy Crostini

2013 JOSEPH d'Elena Pinot Grigio

Live cooked in the courtyard South Australian Seafood Risotto

2011 Primo Estate Shale Stone Shiraz
2011 Primo Estate Zamberlan Cabernet Sangiovese

Wood oven roasted Normanville Lamb rack, Salmoriglio, Caponata, fried Sage Gnocchi

JOSEPH La Magia Botrytis Riesling Traminer 2013
Local & Imported Cheeses, Seasonal Fruit, Quince Paste, Fig and Fennel loaf, lavosh, Almond Bread
Click here to book your tickets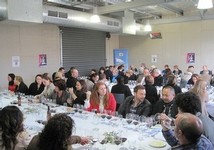 The first review of our 2013 La Biondina Colombard has come courtesy of Ralph Kyte Powell in the Melbourne Age.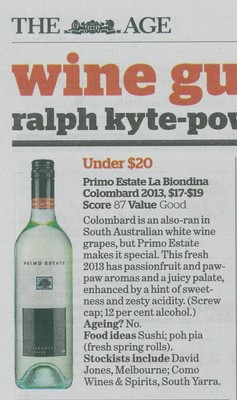 The freshly bottled 2013 JOSEPH d'Elena Pinot Grigio arrived at the Primo Estate cellar door this week. Mark and the team couldn't wait to open a bottle and try the new vintage. Fresh from filtration and bottling, it needs a couple of weeks to settle, however the class of this wine is unmistakable. Subtle fruit aromas, hints of spice, soft texture and delicate length as usual. 2013 d'Elena Pinot Grigio, yum.

The 2010 JOSEPH Moda Cabernet Sauvignon has been included in Matthew Jukes' Top 100 Australian Wines. www.matthewjukes.com

An Australian food icon, the JOSEPH First Run Extra Virgin Olive Oil is sourced from selected groves on the Fleurieu peninsula and the Adelaide Hills. As the name suggests, only the first parcels of fruit from the harvest are used to create this vibrant, spicy and intensely flavoured olive oil. Bottled straight from the press while still cloudy, JOSEPH First Run Extra Virgin Olive Oil is seasonal produce at it's best. Enjoy this small parcel of oil while young and fresh.