Peter Bourne has selected our 2010 Primo & Co The Tuscan Shiraz Sangiovese for his feature on flying winemakers in this month's issue of Qantas inflight magazine The Australian Way.
In this 'tale of two hemispheres' Peter describes The Tuscan's 'generous spiced plum and fresh tobacco aromas set in a frame of mild-mannered tannins'. It is a really interesting look at flying winemakers and their influence on wine both here and overseas, check out the full article.

Louise Radman writes in SA Weekend magazine,
'Nothing beats the opulent black forest-inspired combination of dark chocolate and cherry. With robust character and cocoa flavours of its own, the iconic Australian sparkling red is a classic match to complement any chocolaty treat. This indulgent cuvee from JOSEPH stands head and shoulders above the rest. It's a rich and sumptuous wine with soft bubbles and a brooding core of black cherry and satsuma plum, cracked pepper and chocolate bullet notes. The opulent blend of museum vintages has savoury sweetness and serious layers of complexity to offset bittersweet dark chocolate tones.'
We think Louise is on to a winner with her chocolate pairing but for those seeking a savoury match for this wine we love it paired with Dina Grilli's Umbrian Pate.

Joe found this lovely recipe jotted down in Dina's journal from their 2010 holiday on the Isola d'Elba, just off the Tuscan coast. Colourful and beautifully textured this salad is quick and easy to assemble.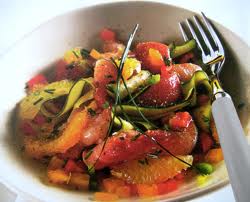 A quick and easy seasonal recipe from our friends at Sydney Seafood School. Perfect for anyone currently enjoying the bounty of a lime tree in the garden. This dish partners beautifully with the refreshing citrus flavours of our La Biondina Colombard.

February's recipe of the month is one of Primo Estate winemaker and owner Joe Grilli's all time favourite dishes from his parent's home region of Ascoli Piceno in Le Marche on the central Adriatic coast of Italy. Joe says,
'Dishes like this are EXACTLY why we make the JOSEPH d'Elena Pinot Grigio'.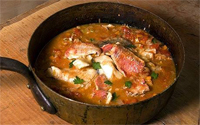 We were thrilled to see our La Biondina Colombard featured in the Adelaide Hilton's FREE recipe ebook as the perfect pairing for this delicious dish. Click here to download the recipe pdf

JOSEPH Sparkling Red is the perfect pairing for roast turkey with cranberries or chicken with chestnut stuffing this Christmas according to The Age's Epicure Uncorked, Ralph Kyte-Powell. In this weekend's five star review Ralph says:
'Australia's most distinctive sparkling red? Based on aged red wines with an annual contribution of younger Primo Estate material it's complex with leathery notes, plum, berry fruit, hints of spice and old oak. Dry for its kind, it is soft and creaming, subtly flavoured, long and complete. Five stars'
PLUS
The Age's 'Presents for Palates' feature by Jeni Port recommends the JOSEPH Sparkling Red as a Christmas gift for its 'A massively complex, engaging sparkling from McLaren Vale; old wine base material is the secret, chocolate, aniseed, allspice, blackberry and fruit cake'

Join us to celebrate La Dolce Vita, the good life, in McLaren Vale at our exclusive Amici Primo Celebration Day wine lunches. View our full calendar of events for 2012 and mark your diary today -click here now

Corks were popping here at Primo when we heard that legendary wine critic and long time Primo supporter James Halliday had included our JOSEPH Sparkling Red in his 100 Top Wines of 2011. Halliday writes: 'This is a very complex wine that invites the second glass as the multi-spice flavours run across the palate, 95 points.' Thank you James, we'll raise a glass to that!
Order your JOSEPH Sparkling Red today, click here now
Read all of James' recommendations at winecompanion.com

Dina Grilli's quick and easy recipe for delicious Linguine al Vongole is now on our recipe page. For a taste of Venice at home click here