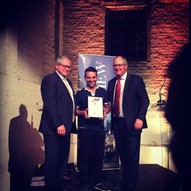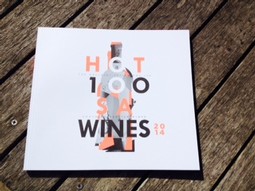 Winemaker Daniel Zuzolo was delighted to be called on stage to collect the 5th place award in the 2014 Adelaide Review Hot 100 Wines, beating 1,395 other wines to make the top five in this prestigious list. The judges wrote: 'A beautifully sweet dessert-style wine. Super bright green and gold hue that shows the virility of youth juxtaposed with complexity, spice and wisdom of a wine beyond its age.'
Try the 2013 JOSEPH La Magia Botrytis Riesling Traminer for yourself - click here to buy now

<h1>/events/Primo---Co-Meet-The-Tuscan-Pizza-Lunch</h1>

Ingredients
1 loaf of ciabatta bread
300 g fresh shelled peas
300 g peeled broad beans
100 ml goats curd
100 ml natural yoghurt
50 ml JOSEPH First Run Extra Virgin Olive Oil
1 handful of mint leaves
2 pinches of sea salt
1 clove of garlic, peeled and cut in half

Directions
Blanch peas and broad beans for 30 seconds in saltrd boiling water. Strain and rinse in cold water to refresh.
Pound peas, broadbeans, mint and sea salt in a mortar and pestle (aiming for a rough mixture rather than a smooth paste). Add goats curd, olive oil and yoghurt, stirring through until everything combines and a vibrant green colour is acheived. Season with salt and pepper to taste.
Cut ciabatta into 1cm slices and grill (if you are a perfectionist use a griddle to get diagional charred stripes). Glently rub the grilled bread with half a cut clove of garlic, drizzle with olive oil and add the topping before serving with one last drizzle of JOSEPH oil over the top, because as Joe says 'too much olive oil can only be good for you!'.
With thanks to our friends at La Dolce Vita Catering for sharing their delicious recipe.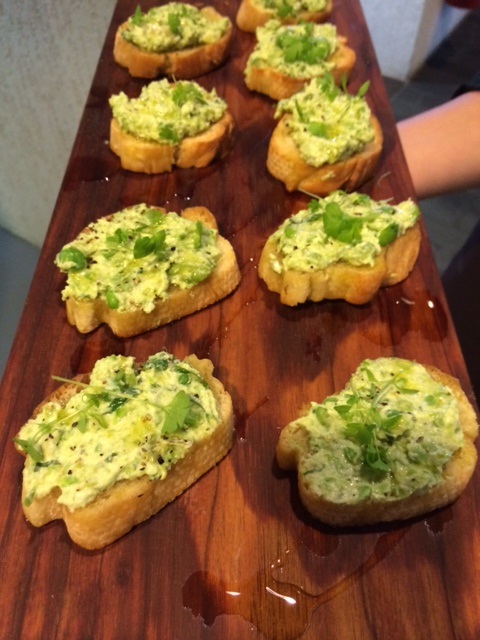 Mark your diaries Sydneysiders: Mark, Richard and George are bringing our McLaren Vale cellar door experience into the heart of Sydney running three days of JOSEPH Experience tastings and a Primo Estate tasting bar at the foodie hot spot of Kitchen by Mike in Rosebery. Featuring our classic JOSEPH Experience tasting plus all your favourite Primo Estate wines there will be some very special offers on the day allowing you to stock up for Christmas.
Come down to say hello, taste the new vintages, pick up some wine and make a day of it with some of Sydney's hippest seasonal, locally sourced cusine. Kitchen by Mike is a seasonal canteen with a brunch and lunch menu that changes daily, they don't take bookings but come on down to see what treats they have in store, we can't wait to see you there:
Kitchen by Mike, 85 Dunning Avenue, Rosebery, NSW 2018
Friday 31st October 2014, 11am - 4pm
Saturday 1st November 2014, 11am - 4pm
Sunday 2nd November 2014, 11am - 4pm
To book your JOSEPH Experience tasting please ring the Primo Team on 08 8323 6800 or email cellardoor@primoestate.com.au (please note that Kitchen by Mike will not be taking cellar door bookings).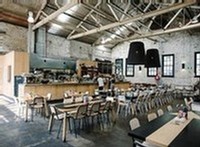 To discover our great value unlabelled wines click here

Any order of 12 Primo Estate, Primo & Co or JOSEPH bottles, straight or mixed, has always enjoyed free shipping and a free 250ml bottle of Primo Estate Extra Virgin Olive Oil. Now we are delighted to announce that we have slashed our old interstate shipping rate of $20 down to just $10 per order for those of you wanting to purchase just a few special bottles. Our dear friends in South Australia still enjoy an unbeatable $6 shipping charge when ordering less than a dozen bottles from us


We were thrilled to see this great write-up from Tony Love in SA Weekend last week:
'Hidden within the Langton's Classification VI announced last week was the return to the list of Joe Grilli's Primo Estate Joseph Moda Cabernet Sauvignon Merlot. The four-yearly updated classification recognises the top echelon of Australian wines collected and traded via the leading Langton's auction market.
The Joseph Moda coincidentally is celebrating its 25th anniversary with the release of the latest (2012) vintage, and to look back at its vinous history Joe recently opened up every one of them. The collection is a testament to the ageing ability of cabernet sauvignon (albeit in a blend with merlot), and also a fascintating glimpse into the unusual "amarone' technique Joe employs in the drying of the grapes before they go into the winery. The drying allows flexibility to pick grapes earlier and retain their natural fruit brightness, but also prompts with age a complex array of flavours that appear like beef stock through to roasted walnuts and panforte.
One thing Joe is convinced about is cabernet sauvignon's suitability.
"It's a tough little berry that can withstand the more challenging years," he says. "You get the sun-filled Australianness of the raisins, as well as an Italian aged, earthy red character which comes around the seven-year mark." If you're a collector and have 2010, 2004, 2002, 1999, 1998, 1996, 1994, 1991, and even the 1989 and 1988 experimentals as Joe started out on this journey, then there are wonderful thrills to be had in your cellar.'
Watch our video of Joe making JOSEPH Moda - click here to view
Try the esceptional 2012 JOSEPH Moda Cabernet Sauvignon Merlot for yourself - click here to buy

Wow! What an honour to be ranked among the most consistently high scoring attractions on the Trip Advisor site. It's the fact that Trip Advisor reviews come from the public makes this award extra special. Thank you to everyone who reviewed us!
Check out what Trip Advisor's wine lovers have to say about their visits to Primo Estate - click here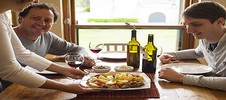 JOSEPH Moda 25th Anniversary Competition
To celebrate the 25th vintage of our iconic JOSEPH Moda Cabernet Merlot we are inviting one lucky Amici Primo and ten of their friends to join owner and winemaker Joe Grilli for an exclusive private lunch in our cellar door courtyard.
You could be celebrating your birthday or special anniversary in luxurious Primo style as you and ten friends share a limited edition six litre 'Imperial 'of 2012 Moda with Joe at this exclusive 'money can't buy' party. In addition, the lucky winner will have a $2,000.00 budget for travel and accommodation to share among their guests for a truly memorable trip. Three runners-up will each enjoy a magnum of 2012 JOSEPH Moda signed by Joe.
Each bottle of 2012 JOSEPH Moda purchased by Amici Primo in our McLaren Vale cellar door or via our website automatically earns one entry into this fabulous prize draw. The more 2012 Moda you buy from us, the more chances you have of winning as each bottle is another automatic 'ticket' in the draw. We look forward to celebrating 25 years of JOSEPH Moda with you in 2014.
Buona fortuna!
The Primo Team
Competition Terms & Conditions
Entrants must be aged 18 years or over
Entrants must agree to join the free Amici Primo mailing list so we can contact them if they win
Customers will receive one free entry in the draw with each bottle of 2012 JOSEPH Moda purchased in Primo Estate's Cellar Door or on www.primoestate.com.au between 31st March 2014 and 2nd February 2015 as long as stock is available.
No cash alternative will be offered
First prize consists of three course wine lunch for the winner and ten guests at Primo Estate with Joe Grilli valued at $1,300.00, plus a limited edition imperial of 2012 JOSEPH Moda valued at $1,000.00 and travel and accommodation to the value of $2,000.00. Three runners up prizes will consist of a magnum of 2012 JOSEPH Moda valued at $200 each. Total value of all four prizes is $4,900.00
The prize must be taken before 2nd February 2016, no cash alternative will be offered
The winner must provide at least six weeks-notice of the date they wish to have their lunch
Primo Estate will make every effort to accommodate the winner's request for a chosen date for their lunch but this will be subject to availability of caterers, Joe Grilli and the venue.
The winner will be responsible for booking their own travel and accommodation and Primo Estate will reimburse these upon receipt of proof of purchase up to the total value of $2,000.00 including GST. The $2000.00 total must be used for travel and accommodation to the lunch and not for any other date. The budget can be used for any combination of travel and accommodation that the winner chooses and divided among their guests however they wish.
Primo Estate cannot cancel the event less than seven days before the planned date as the caterer will already have ordered food and booked staff.
Primo Estate is not responsible for delays, cancellations or injuries due to third parties providing transport or accommodation – we recommend the winner purchase travel insurance.
The winners will be drawn at random on 2nd February 2015 at Primo Estate cellar door, McMurtrie Road, McLaren Vale, SA 5171. The winners will be notified by phone or email within three working days.
In entering this competition the winner gives permission for their name and likeness to be used in Primo Estate marketing materials notifying Amici Primo about their win via newsletters and social media.
The competition is run by Primo Estate, 50 McMurtrie Road, McLaren Vale, SA 5171