Winemaker Joe Grilli fell in love with the Nero d'Avola grape during his trips to its home of Sicily, Southern Italy. McLaren Vale's warm maritime climate is ideally suited to the rich, spicy Nero d'Avola grape. This limited release is made using traditional open fermenters, and is matured in seasoned oak barrels.
We only made a tiny batch in 2018 and do not expect it to last long!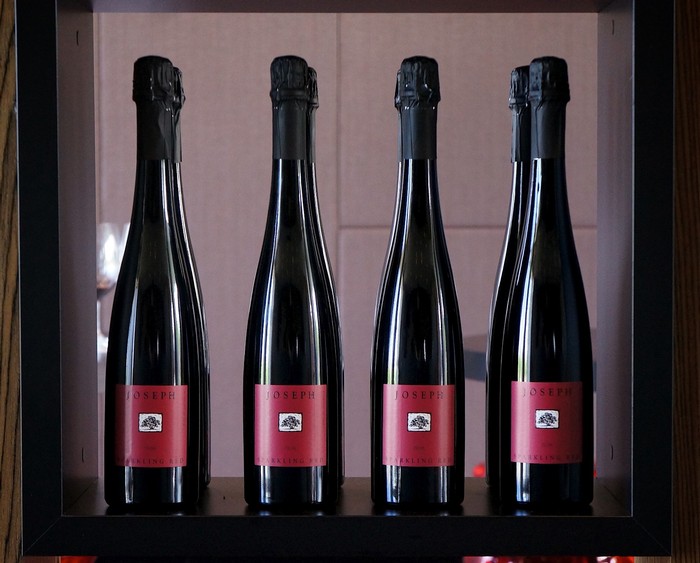 The lastest disgorgement of JOSEPH Sparkling Red is here!
To create the JOSEPH Sparkling Red a hogshead of the ultra premium JOSEPH Moda Cabernet Merlot from every year since 1991 and Primo Estate Shiraz from 1989 is added to a unique blend of museum vintages from the past 40 years.
The result is a layered style with dark, brooding complexity and a unique mixture of cherry, roast nut and dark chocolate.
This is an extremely limited bottling which will sell out fast.
Discover this unique style today!

As sunny weather returns and McLaren Vale is transformed by the green budburst of the vines, we're hosting an Italian feast of seasonal dishes fired to life in our wood oven.
Our long tables will be filled with a seasonal menu prepared by La Dolce Vita Catering, and we'll be serving a flight of our new-release Primo Estate and JOSEPH wines.
​
Primavera Lunch Menu
​
NV Primo Secco Sparkling White

GNOCCO FRITTO
Fried pizza, smoked kingfish, fresh horseradish, pickled fennel and apple
​
2018 Primo Estate La Biondina Colombard
2018 Primo Estate Merlesco Merlot
​
ANTIPASTO DI PRIMAVERA
Seasonal chargrilled vegetables, cured meats, arancini, burrata
​
2017 Primo Estate Zamberlan Cabernet Sangiovese
​
AGNELLO AL FORNO
Normanville lamb, zucchini, buckwheat, spinach gnocchi, mint whipped chevre
​
POLLO ALLA GRIGLIA
Wood roasted Gawler river spatchcock, pearl peas, almonds, currants, fermented pumpkin

2016 JOSEPH La Magia Botrytis Riesling Traminer
CROSTATA AL LIMONE
Lemon curd tart, mascarpone


Join us for an afternoon of rich red wines and hearty food at our JOSEPH Winter Wild Lunch, starring the new 2016 JOSEPH red wines perfectly paired with a seasonal feast by La Dolce Vita Catering.

This long, relaxed lunch is the only cellar door event at which we pour our JOSEPH wines, an unmissable opportunity to enjoy the JOSEPH range accompanied by a specially created menu. Discover just how good the 2016 vintage was in McLaren Vale as we pour the new release 2016 JOSEPH Moda Cabernet Merlot, Angel Gully Shiraz and Nebbiolo accompanied by a lavish five course lunch.

Don't miss this cosy afternoon of gourmet indulgence as you and your friends relish the beauty of winter in wine country, the highlight of the winter season.

Saturday 4th August - Click Here, Book Now
Sunday 5th August - SOLD OUT

JOSEPH Winter Wild Menu
NV Primo Secco Sparkling White
CARNE CRUDA
Chianina Beef Tartare, Mustard, Cured Egg, Crostini
2018 JOSEPH d'Elena Pinot Grigio
OSTRICHE
Herb Crumbed Smoky Bay Oysters, Salmon Roe, Myer Lemon Aioli
2016 JOSEPH Nebbiolo
GNOCCHI AL FORNO
Wood oven baked handmade gnocchi, duck ragu

2016 JOSEPH Moda Cabernet Sauvignon Merlot
2016 JOSEPH Angel Gully Shiraz
ARROSTO DI MANZO
Wood Roasted Coorong Angus Beef Shank, Pickled Mustard Seed Mash, Salsa Verde, Seasonal Sides

NV JOSEPH The Fronti Fortified
LEMONMISU
Tiramisu with a Citrus Twist
Just $125 per person

Saturday 4th August - Click Here, Book Now
Sunday 5th August - SOLD OUT

La Biondina (the young blonde), a modern Australian classic, returns to cellar door with a new vintage.
TASTING NOTE
The nose has fresh passionfruit, pineapple, guava and citrus notes. The palate has mouth-watering acidity balanced with 'fruit salad' exuberance. Bursting with juicy passionfruit, mango and citrus flavours; La Biondina brings the taste of summer all year round.
VINEYARD REGIONS
The Adelaide Plains are just 10 meters above sea level and benefit from cooling maritime breezes (you can see the ocean from our winery). The dry, sunny climate and sandy loam soil are perfect for growing the late-ripening Colombard variety. Half of the fruit is picked a first ripeness to give fresh, citrus fruit notes, while the remainder is allowed to hang for another fortnight to develop the rich tropical passionfruit flavours that are such a feature of La Biondina.
VINTAGE CONDITIONS
2018 saw perfect growing conditions in the Adelaide Plains. The long sunny days with no extreme weather conditions produced beautiful fruit from healthy, flourishing vines.
WINEMAKING
A long cool fermentation in stainless steel to preserve delicate fruit flavours, followed by early bottling to capture the freshness.
Harvest February 2018 Grapes 100% Colombard Alcohol 12% Winemakers Joe Grilli & Tom Garrett Peak drinking Enjoy these fresh flavours within 12 months of release. Food Our 'young blonde' is a popular girl who can make friends with a wide variety of dishes, especially seafood, and spicy Asian flavours. Try pairing with salt and pepper squid, Pronunciation 'La bee-on-dee-nah'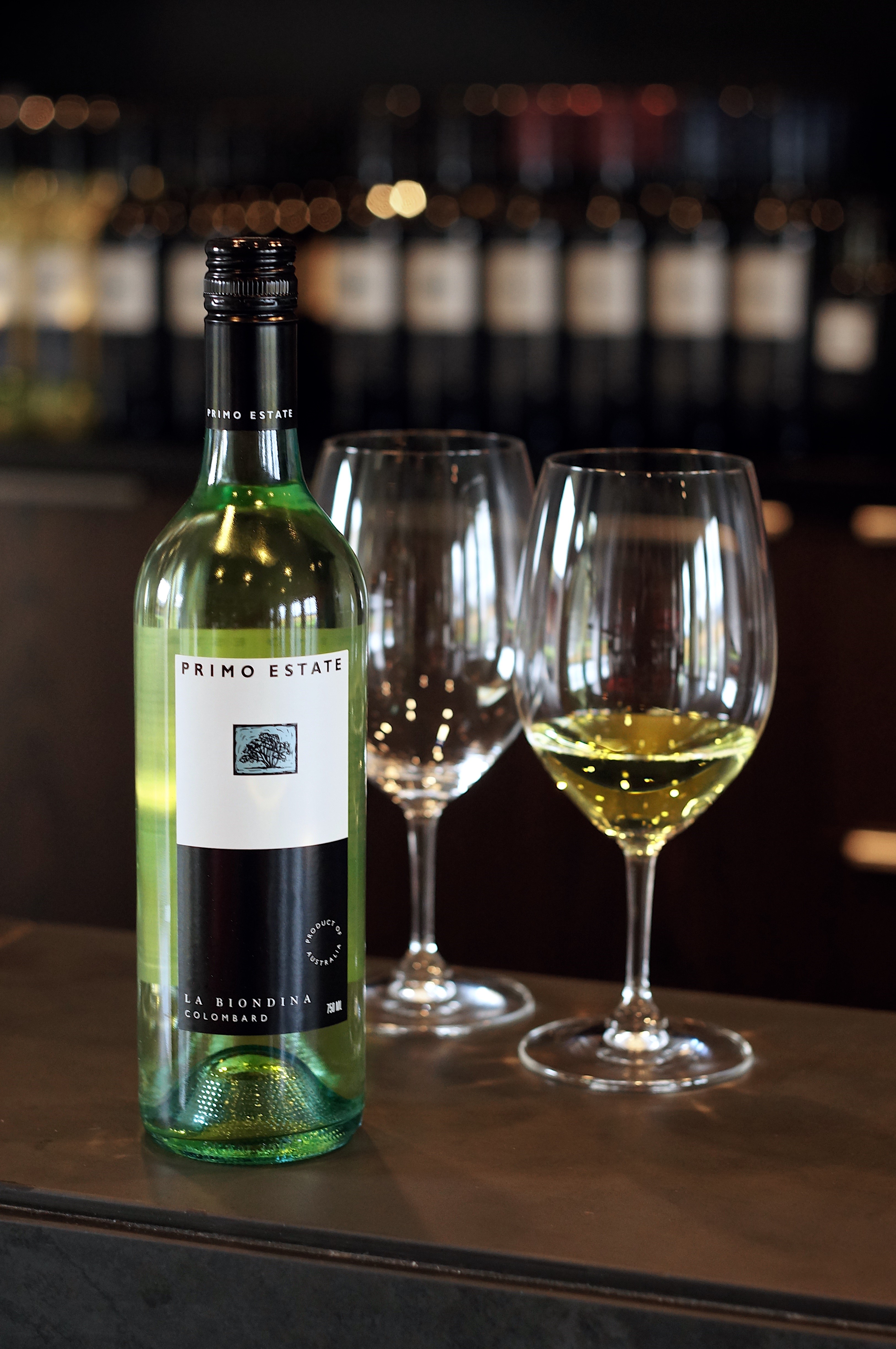 June sees the arrival of the first new extra virgin olive oil of the season, fresh from the press.
In celebration Primo Estate is hosting a national tour of traditional Italian olive harvest celebration dinners around the country:
JOSEPH Olive Harvest Lunch
12:00 PM to 3:30 PM Sat, 09/06/2018 - Sun, 10/06/2018
Venue: Primo Estate Cellar Door, McMurtrie Road, McLaren Vale, SA 5171
Melbourne JOSEPH Olive Harvest Celebration
6:30 PM to 10:30 PM Wed, 13/06/2018
Venue: +39 Pizzeria, 517 Malvern Road, Toorak, Victoria 3142
Sydney JOSEPH Olive Harvest Celebration
6:30 PM to 10:30 PM Tue, 19/06/2018
Venue: The Commons, 32 Burton St, Darlinghurst, New South Wales 2010
Brisbane JOSEPH Olive Harvest Celebration - SOLD OUT
6:30 PM to 9:30 PM Tue, 26/06/2018
Venue: Bar Alto, The Powerhouse, 119 Lamington Street, New Farm, QLD 4005
Gold Coast JOSEPH Olive Harvest Celebration
6:30 PM to 9:30 PM Wed, 27/06/2018
Venue: Gemelli Broadbeach, 2/2685 Gold Coast Highway, Broadbeach, Queensland
Darwin JOSEPH Olive Harvest Celebration
6:30 PM to 9:30 PM Tue, 03/07/2018
Venue: Pee Wee's at the Point, Alec Fong Lim Drive, East Point, NT 0820
Canberra JOSEPH Olive Harvest Celebration - SOLD OUT
6:30 PM to 9:30 PM Tue, 10/07/2018
Venue: Italian & Sons, 7 Lonsdale Street, Braddon, ACT 2612
This unique celebration of fresh, seasonal produce will see Matteo Grilli flying his family's new 2018 JOSEPH First Run Extra Virgin Olive Oil around the country for an unmissable series of wine dinners, all starring the new oil.
Book your tickets today - click here

Join us for a traditional Italian celebration of the new season's extra virgin olive oil, fresh from the press! A true gourmet indulgence as we pour a selection of our wines, perfectly paired with olive oil rich Italian cuisine.
Menu
NV Primo Secco Sparkling White
Warm Marinated Olives
CROSTINI
Jerusalem Artichoke, Smoked Duck, Nuduja
2017 JOSEPH d'Elena Pinot Grigio
SARDINA FRITTA
Pecorino Herb Crumbed Port Lincoln Sardines, Winter Leaves, Grains, Blood Orange, Pickled Fleurieu Squid, Aioli
2017 Primo Estate Shale Stone Shiraz
2016 Primo Estate Zamberlan Cabernet Sangiovese
AGNELLO
Wood Roasted Hay Valley Lamb Loin, Paper Shell Almond Pearl Pea Purée, Green Olive Caponata, Rapini
2017 Primo Estate Il Briccone Shiraz Sangiovese
FORMAGGIO E DOLCE
Local and Imported Cheeses, Fig and Fennel Bread, Merlesco Poached Quince
Lemon, Vincotto Tartlets
$99 per person for four courses including five wines
Saturday 9th June - Click here, book now
Sunday 10th June - Click here, book now

We were thrilled to read a glowing review of our ever popular 'La Biondina' Colombard in the February issue of Money Magazine:
Joe Grilli and the team at Primo Estate have made this unique McLaren Vale style a regular among Australia's best value whites. There's alluring fresh sweet pea and green bean aromatics, a vibrant, clean mid-palate and a clean, dryish finish.'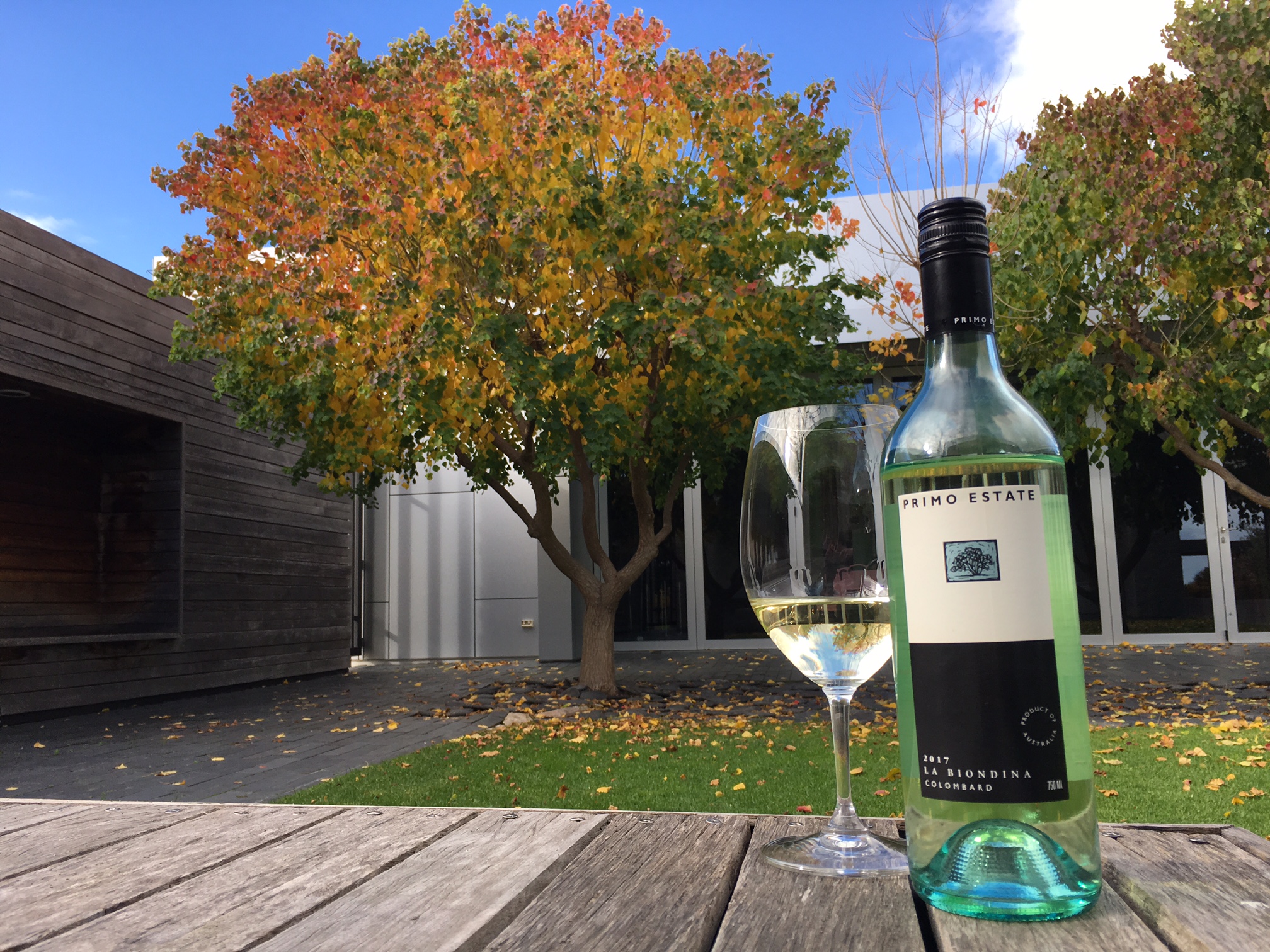 Saturday 7th April - Book Now, Click Here
Sunday 8th April - Book Now, Click Here

Celebrate the arrival of the new vintage of Primo & Co The Venetian Garganega, fresh from Italy where Joe makes it in the Soave region just outside Verona. This will also be the first time we pour our new Italian varietal Nero d'Avola at a cellar door lunch. Our friends at La Dolce Vita Catering have created a special seasonal menu to showcase the wines:
Menu
NV Primo Secco Sparkling White
ZUCCHINI FRITTELLI
Zucchini, Pecorino, Mint Fritter, White Anchovy Mayo
2017 Primo & Co The Venetian Garganega
2017 Primo Estate La Biondina Colombard
FRUTTI DI MARE
Local Fish and Shellfish Risotto
2017 Primo Estate Nero d'Avola
2016 Primo Estate Zamberlan Cabernet Sangiovese
ARROSTO DI MANZO
Wood Roasted Angus Beef Cap, Sweet & Sour Peppers, Horseraddish Mustard, White Bean Puree and Salsa Verde
POLLO ALLA GRIGLIA
Chargrilled Spatchcock, Roast Farro, Pomegranate, Marinated Chevre, Pickled Zucchini, Nduja Roasted Almonds
2016 JOSEPH La Magia Botrytis Riesling Traminer
LA PASTIERA
Traditional Neapolitan Easter Cake with Spiced Stone Fruit
Saturday 7th April - Book Now, Click Here
Sunday 8th April - Book Now, Click Here